91-79-22821240/22823422/22201484/22200156

Send Inquiry
An ISO 9001:2000 certified company dealing in Submersible Pumps that have curve tolerance, control box, and full obturated screen motor or rewindable motor in conformity with international standards.

An Introduction
Water is amongst the best things of this world which is priceless as it holds the planet with a strong bonding of life and evolution. In other words, water up to a large extent is the biggest cause of survival for not only living beings but also for every matter that has taken its shape by somehow or the other. Water, as a precious gift of nature helps in creating a sustainable balance amongst human beings to develop in substantial way. Treatment of sewage water has been an old practice and for this purposes quality
sewage submersible pumps
are imperative.
Apart from the uses of water in laundry, washing, showering and bathing, this liquid elixir is extensively used in cultivation of rice, which consumes more than 2,000 litres of water for harvesting 1Kg of Rice. To maintain equal and adequate distribution of water in these harvesting fields, water pumps play a very crucial role.
"Water is omnipresent and omniscient, which has not only provided life but also is the sole cause of nourishment in living beings."

About Us
Jasco Pump Pvt. Ltd. is a prestigious
sewage submersible pumps
manufacturer, supplier and exporter. Our assortment of industrial pumps include
polder submersible pumps, portable dewatering pumps, dewatering sub. pumps, self priming mud pumps, portable sewage submersible pumps
, and many others. These are
used for civil applications, irrigation, garden use, fountains, and for getting water from reservoirs or wells
. Having
advanced design, quality stainless steel & material of construction, easy usage, simple installation, and high energy saving
, our industrial pumps like
submersible pumps
play an important role to a better environment and improved life for people.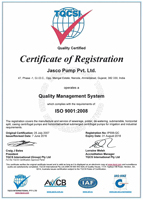 Latest Trade Offers
We are engaged in manufacturing, exporting and supplying of Single And Three Phase Sewage Submersible Pump in Ahmedabad, Gujarat, India. These pumps a..
We are instrumental in providing to our valuable customers excellent quality Submersible Polder Pump which is available with following specification:-..